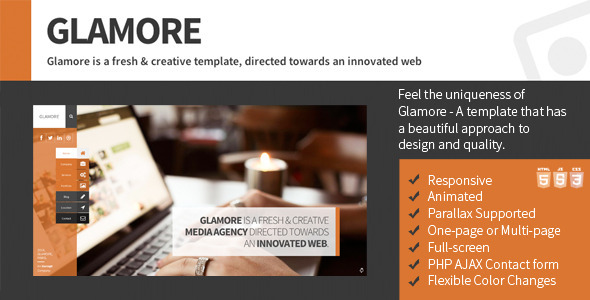 Responsive, as never seen before
Glamore is a one-of-a-kind template, one such that has never before seen. It comes with an array of colours, easy customisation, tonnes of features, premium high-quality design aesthetics and great animations.
Full-screen, page resizing, collapsible menu, one-page, multi-page etc. are some of the highlights that Glamore ships with.
NEW: Full screen Video Background support!
Note: Few of you asked if this template supports multi-page layout and not single-scroll based. The answer is, Yes - Glamore easily (out of the box) supports multiple pages, for those who do not like scrolling!
Try a template that gets your business to stand out of the crowd – Glamore is not a typical one-page template like the crowd, but it is a whole new level of one-page innovation.
Extremely fast load time
Video backgrounds supported (HTML5 self-hosted) [[ NEW!! ]]
Page Resize – Full Screen Pages Toggle [[ NEW!! ]]
Responsive – works very well on desktops, laptops, tablets, smartphones and everything in between
High Resolution
Parallax Support
Sidebar based
Isotope Portfolio Filtering
Light and Dark pages fully supported
Built on LessCSS for easy color customisations
Search results template included
Typography page included (check preview)
Extensive documentation and full instant support
Built on Bootstrap 3
400+ icons included
Google Fonts supported
Working AJAX PHP Form
PHP with "include" files included (Default HTML version is also available for non-php buyers)
NOTE: Please note that all support requests are handled via email, as mentioned in the documentation. We will not be able to support your requests in the comments adequately, as they will not reach the support team.
UPDATES

// 28-05-2014 (reported by Perchpole)
- Fixed a bug of portfolio detail and blog sliders in certain versions of Firefox, where they flickered.

// 19-05-2014
- Modified CSS file for video background
- Added 3 more HTML files: Video BG, Parallax Intro, Page without Blog
- Fixed a bug where the contact form didn't show placeholders for Firefox and IE
- Updated the PHP folder as well, to reflect above changes

Tags: Corporate, creative, full screen, modern, sidebar, unique